Weathering Extremes: Medieval Climate Change at Caerlaverock Castle
Sum awarded: £8,700
Barely 50 years after the first castle at Caerlaverock was built it was abandoned and a replacement built on higher ground. The 'old castle' and 'new castle' of Caerlaverock in Scotland were built just 200m apart.
Led by Dr Morvern French and Stefan Sagrott, Historic Environment Scotland are investigating why the Maxwell family that built the castle chose to move to a new site. The theory is that the 'old castle' was vulnerable to extreme weather as it sat near the mouth of the River Nith. Medieval storm surges changed the landscape, depositing gravel ridges across the area.
The team will take samples from the landscape around the castles and by analysing the sediment and using radiocarbon dating they will try to establish how the area changed and when.
Caerlaverock Final Report (13MB PDF)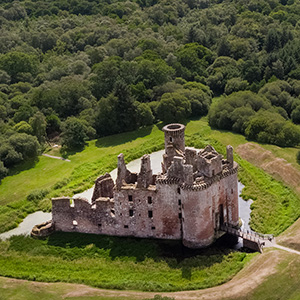 Image: © Historic Environment Scotland