Richmond Castle Community Excavation
Perched on the banks of the River Swale, Richmond Castle is one of the best preserved Anglo-Norman castles. It was founded in the 1070s by Alan Rufus who had fought alongside William the Conqueror at the Battle of Hastings.
Led by Solstice Heritage on behalf of the Celebrate Richmond 950 Project, the project will open a series of evaluation trenches within the castle. Archaeologists will work alongside community volunteers. The dig will investigate features identified by previous geophysical survey at the castle.
Richmond Castle Excavation (4.1MB PDF)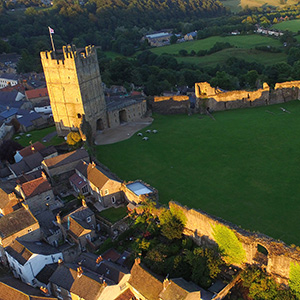 Image: © English Heritage