Geophysical survey at Wressle Castle
Sum awarded: £5,388
Wressle Castle was built for Thomas Percy in the 1390s. The Percys were an influential family in northern England and were involved in power struggles for the throne, even helping dethrone Richard II. Wressle was a palatial castle and renewed in the 16th century, giving insight into high-status living in northern England.
In 2014 we funded Ed Dennison Archaeological Services to carry out a topographical survey, which helped shed light on the landscape around the castle. In 2019 we funded EDAS to return to Wressle and carry out a geophysical survey, building on the earlier project. The survey will cover 5.15 hectares and aims to improve the understanding of how the castle and its landscape developed from the 14th to 17th centuries. With potential excavations on the horizon, it would also help target future investigations.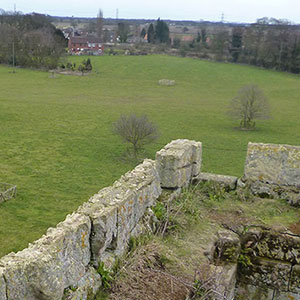 Photo Credit: EDAS Ltd.
Wressle Castle Garden and Surrounds Survey Report Final (14.5MB PDF) 2014
Wressle Castle Garden and Other earthworks Geophys Survey Report Final (50.7MB PDF) 2019