Excavation Director Jim Brightman of Solstice Heritage gives an update from the end of Wednesday 4 August
With things now very firmly heading towards the end of the excavation, we were able to arrange our logistics just right to let us to open a fourth trench on Monday. It was always our hope that we would be able to get to this point, though with the volume of archaeology (and more recent backfill) in our first three trenches, it's been very much up in the air as to whether we would have time.
Subscribe to our quarterly newsletter
Fortunately, Trench 2 was completed, and we were able to set to de-turfing an area very close to the southern wall of the Castle and around some slightly enigmatic wall footings that had been consolidated and left above ground in the mid-20th century. It is not entirely clear what these walls might represent, and it has given us another bite at potentially locating the medieval chapel which we were hoping might have been in Trench 3.
Although we are only a short way through the topsoil, we have already seen a real mix of finds from all periods of the Castle's history: bits of glass and pottery potentially from the Victorian and World War I occupation, some lovely pieces of medieval pottery to show we were heading in the right direction and even a bullet casing made in 1974. What that was doing in the Castle, we have no idea!
The real star of Trench 4 (featured image) so far, however, has been the fragmentary remains of a really fine plaster or lime mortar floor—a hint that we may well be within the footprint of a well-appointed building. Hopefully, we still have enough time to get to the bottom of the remains in this new trench!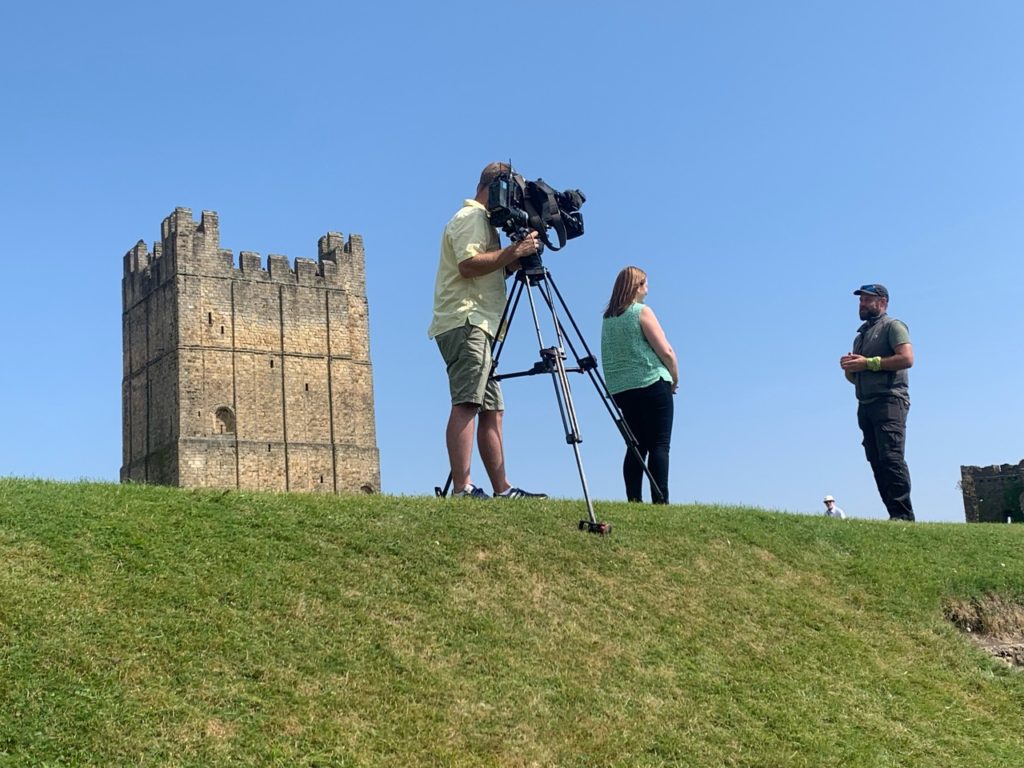 The other excitement for the start of this week was the visit today by a team from our local ITV news programme. Word has spread quickly about the find of the William the Conqueror penny last week, and it was a lovely opportunity to spread the word a little wider still about the fantastic work that the volunteers have been doing through the course of the dig. For those who missed it (or are in a different ITV area), the full report can be found at this link:
https://www.itv.com/news/tyne-tees/2021-08-04/now-what-do-we-have-here-dig-uncovers-ancient-treasure-at-richmond-castle
Subscribe to our quarterly newsletter