Review of: Charles Phillips, The Medieval Castle. Design, construction, daily life.  Haynes Publishing, 2018.  £22.99.
In the heart of a forest in Burgundy (France) a thirteenth century castle has been rising steadily from the ground since 1997. Guédelon castle was the subject of the BBC series Secrets of the castle in 2015 and, twenty years after construction started, is near completion. This new book describes what was involved in the challenge of creating a medieval castle using the Guédelon experience and relating this to the development of medieval castles in Britain.
The book is beautifully illustrated and succeeds brilliantly in demonstrating medieval building techniques, how the challenges medieval builders faced were overcome with the tools and technology at their disposal, how critical differences in types of soil, stone and timber determined what was used – in short, the great skill acquired by medieval craftsmen and now re-learnt by their modern successors (who operate under professional archaeological supervision). The tools used, the equipment created – such as enormous treadwheel cranes – how stones were cut and carved, mortar manufactured, vaults and windows installed, floors and roofs prepared and put in place: all are superbly explained in word and picture. Plumbing and heating were essential to survival and all are covered here. The daily life of those living in and around a medieval castle is superbly recreated by those working on the project (along with illustrations from medieval manuscripts, many of which will be well known to anyone already familiar with the subject).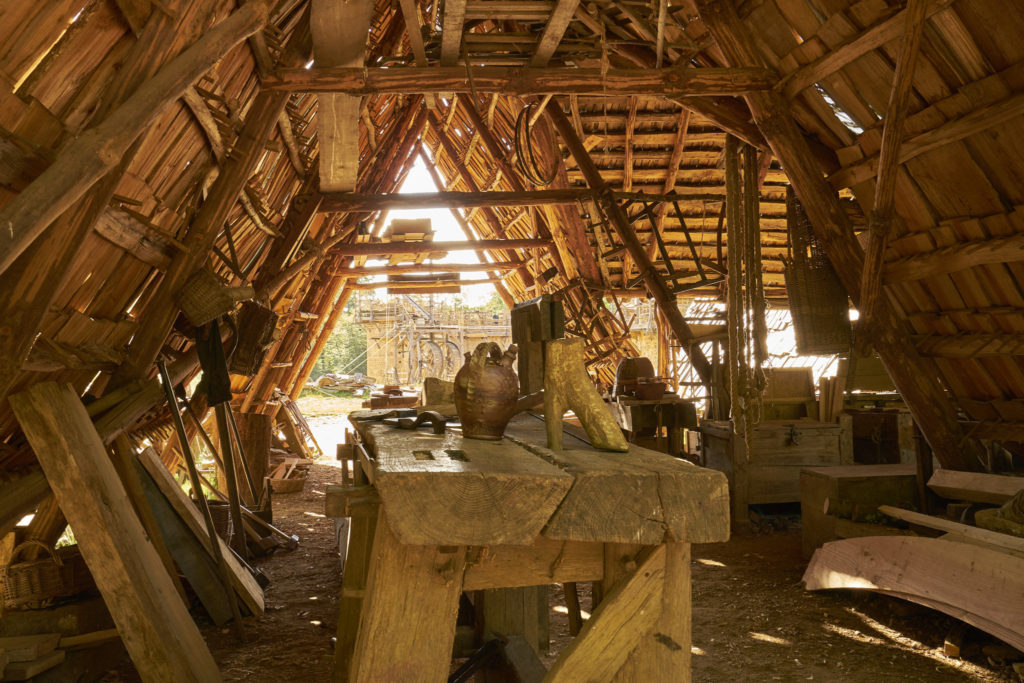 Working inwards from the ditch via gate, walls and bailey to the great tower and interior buildings (hall, chapel, chamber etc), Phillips takes the reader through the development of castles in England and Wales (with a rare skip across the Channel to France) between 1066 and the fifteenth century.  His descriptions are largely of well-known major castles (Dover, Tower of London, Chepstow, Edwardian castles in Wales) which are presented with clear plans and excellent photographs. But it is here that I have a problem.
Though the author states that castles were bases and symbols of power and status, he otherwise hardly acknowledges more than twenty years of castle studies that have turned traditional explanations on their head: everything, he states time and again, was done that way for military reasons. While the great tower (keep, donjon) was occasionally used as a last resort defence, it was not built for that purpose. The cross-wall in the keep at Rochester (for example) served as a defence in the final stages of King John's siege of 1215, but that was not why it was put there. Round towers had (some) defensives advantages over rectangular towers, but that wasn't the only reason they become fashionable, and even then mainly only in France and England. I could go on.
Despite this weakness, Phillips' book presents an unequalled description of how thirteenth century castles were designed and erected. Guédelon was based on a style made popular by King Philip Augustus of France. If you can get to visit it, do (though you will compete with thousands of tourists and school visits). If you can't, this book will tell you all you need to know about it.
Peter Purton (D.Phil, FSA).