The Castle Studies Trust is delighted to announce the award of two grants for 2016: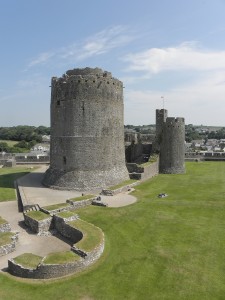 Pembroke Castle – geophysical survey of the castle's interior. Best known for its massive round keep built by William Marshal, the greatest knight of his age, little else is known about what exactly was in the castle's interior. Dyfed Archaeological Trust with the guidance of well-known castle expert Neil Ludlow will use the latest geophysical techniques including ground penetrating radar to try and reveal some of the secrets.
Caus Castle – earthwork, geophysical and photogrammetric survey of the castle. Frequently referenced in medieval research as an example of a Marcher castle and associated failed borough on the Welsh borders, nobody has done any proper analysis of one of the most important medieval sites on the Anglo/Welsh border. This first detailed archaeological analysis will be carried out by Dr Michael Fradley who has previously undertaken ground breaking surveys of castles at Wallingford (Oxon), Sudeley (Glos), and Newhall (Ches) and Giles Carey. The focus of the project will be on the outer bailey where the medieval borough was situated.
Donate to Have Opportunity to Visit the Selected Projects 
Within the next year the Trust will be organising exclusive visits the selected projects during the initial research stages or at completion of them. These visits are only open to those supporters who have donated to the Trust.
If you would like to be invited to a site visit you can donate in a variety of different ways:
Not only will you have the chance to visit the sites you will also be increasing the amount we can give away to more exciting projects like the ones above next year.