Gleaston Castle, April 2016. Written by Matthew Emmott.
Throughout the week of the 25th to the 29th of April, the Morecambe Bay Partnership and the University of Central Lancashire's archaeological department teamed up to give a lucky few a golden opportunity to take part in a further survey of Gleaston Castle in Cumbria.
Following on from the aerial survey undertaken at the end of July last year using a grant from the Castle Studies Trust, it was hoped that any buried structures beneath the courtyard would be identified and mapped out. Adam Stanford's 2015 survey (Aerial-Cam) used the latest in drone technology, utilising high definition photography\photogrammetry to capture the full character of Gleaston's ruins, and in the process produced some intriguing survey results pointing towards the possible remains of buildings and platforms beneath the courtyard.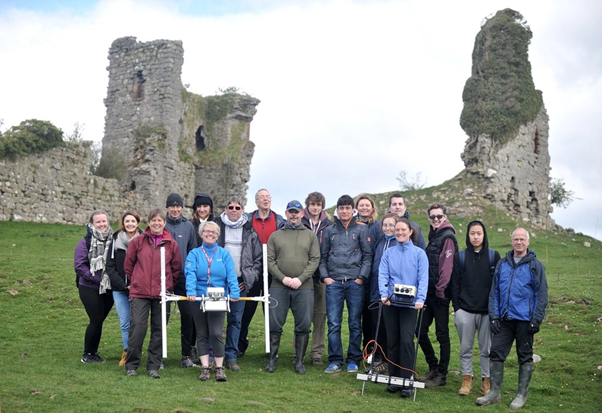 Tools on offer to assist in the survey, and provided by the University of Central Lancashire's Archaeological department, were ground penetrating radar, a magnetometer, an electrical resistivity meter, high definition cameras and laser scanners.
Aided and abetted by Louise from the Morecambe Bay Partnership, volunteers and students were taken through the process of mapping out grids and the use of the equipment. And then the real work was done. By the end of the week it looked as if the whole of the courtyard had been scanned using all the available techniques…..all we have to do now is wait for the results and hope that Gleaston has at last given up some more of her secrets.
Click below for the 3D model produced last year.
Gleaston Castle
by aerial-cam
on Sketchfab
Matthew Emmott writes about Cumbria's castles at matthewpemmott.co.uk