Three years ago this month, the Castle Studies Trust officially became a registered charity. A group of castle enthusiasts while visiting castles realised there is still so much we do not know about these fascinating structures, even the basics of what they look like, let alone what they were used for and how they developed over centuries. This, combined with continued long term cuts to traditional funding organisations the enthusiasts decided to do something to help and set up a the CST.
From the start there have been three key tenets of the Trust:
Being a new source of funding for such work and not taking monies from existing sources and thus reliant on public donations.
Focusing on sites not in the care of major heritage organisations such as Cadw. This means we concentrate on castles which are privately owned or run by trusts or local authorities where even less is known about this sites.
All results must be published within a set time frame (currently nine months) and freely available to the public.
The charity exists to push the boundaries of our understanding of castles. We are primarily a grant-giving body and are run entirely by volunteer trustees. Once we were set up fundraising began in earnest so we could support research projects. Enough was raised so that in late 2013 applications were opened. As luck would have it, we were able to support four grants that year, one in each of England, Ireland, Scotland, and Wales. It is an annual process and earlier this year we awarded our second set of grants to another two sites.
There are thousands of castles in the British Isles, built over hundreds of years and they are visited by millions of people every year. Some are very well understood. Many are in the care of national heritage organisations such as Cadw or the National Trust. But with so many castles there is always more to learn. That is why we feel we can make a real difference.
We work around castles which large heritage bodies might not have the resources for but have incredible potential. This year we are supporting two projects, one at Gleaston in Cumbria, and the other at Pleshey in Essex. Between them we have a site at risk of decay or even collapse and a castle which was the pride of one of the richest men in 12th-century England.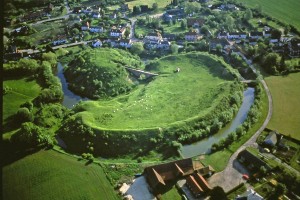 Already we're seeing the results from our first set of grants coming through. At one of the sites the work we supported has triggered further research supported by the Archaeological Institute of America. The Trust isn't going to change our understanding of the Middle Ages overnight, but we can make an invaluable contribution and pave the way for more work.
The application process for new grants opens in September. We're eagerly looking forward to see what projects are suggested.
Three years in, we've come a long way and in the future hope to support even more projects. With your support we can continue working at the cutting edge of our understanding. Help us do something exciting.
This new blog will be used to explain what the Castle Studies Trust does and the projects we support.