As we draw towards the end of the year, Julie Biddlecombe-Brown, Curator at Raby Castle checks in on the 2022 research project funded by the Castle Studies Trust as this chapter draws to a close.
Subscribe to our quarterly newsletter
What a busy year 2022 has been and yet, this project has been one of the highlights. Working with Durham University Archaeological Services, the castle exterior was fully scanned over the summer and the scans imported into specialist software that enables us to view and fully manipulate the images. The quality of the scanned images are superb and can be used in multiple applications; as a base model for 3d imaging (shown below) or overlaid with the HD photographic detail to provide a record of every elevation, down to the individual stone, providing inspiration for new visitor-facing interpretation and vital data for the castle architects. The team at Durham University have shared the incredible detail captured on the scans with their counterparts at Raby – demonstrating how the drone was able to access areas that have previously been very difficult to view; testimony to the skill of the drone pilot but also enabling an unrivalled view of the battlements – even into the machicolations.
Alongside the images, Raby Castle has benefitted from the experience and knowledge of Durham's Senior Archaeologist Richard Annis in reviewing the complex interior of the building against historic plans and research notes compiled by Raby's dedicated volunteer group. With the scans and historic plans to hand, Richard has explored the building from top-to-toe, focusing on intersections between the medieval fabric and later interventions. This has identified spaces known to the castle team which had not appeared on any of the earlier plans, enabling detailed measurements to be taken as part of the broader survey. In addition to the overall survey which will be of immense benefit for the quinquennial survey and subsequent building monitoring and maintenance, this project sought to produce a 3d digital model of the castle that could be used to demonstrate different phases of the castle's history. The team at Durham University Archaeological services have produced a Terra model (below) which will now be separated into phases for the conclusion of the project in December. The castle have engaged audio-visual specialists Heritage Interactive to work with them to produce new interpretation for visitors that will incorporate the models and the research findings.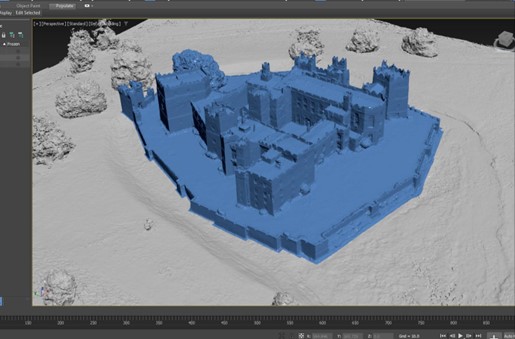 Special thanks from the Raby Castle team are owed to the Castle Studies Trust Trustees who visited in October to check on progress. The afternoon spent at Raby was valuable for both the Trust and the Castle, drawing on expertise and debating anomalies in the castle architecture. The discussions will feed into the final report being produced by Durham University Archaeological services alongside the model. We look forward to sharing the end results once the final report and model have been completed.