Dr Rowena Banerjea, University of Reading, UK, with funding from a British Academy/Leverhulme Small Research Grant talks about the research project she works on All Along the Watchtowers! https://research.reading.ac.uk/castle-geoarchaeology-heritage/
The buried or below-ground archaeology at castle sites can be exceptionally well preserved because of its burial under masonry. However, it is often overlooked in conservation and management plans in favour of protection and consolidation of standing remains and developments such as reconstruction and rebuilding projects. It provides an important lens through which we can examine important phases and hiatuses in the developmental history of these monuments.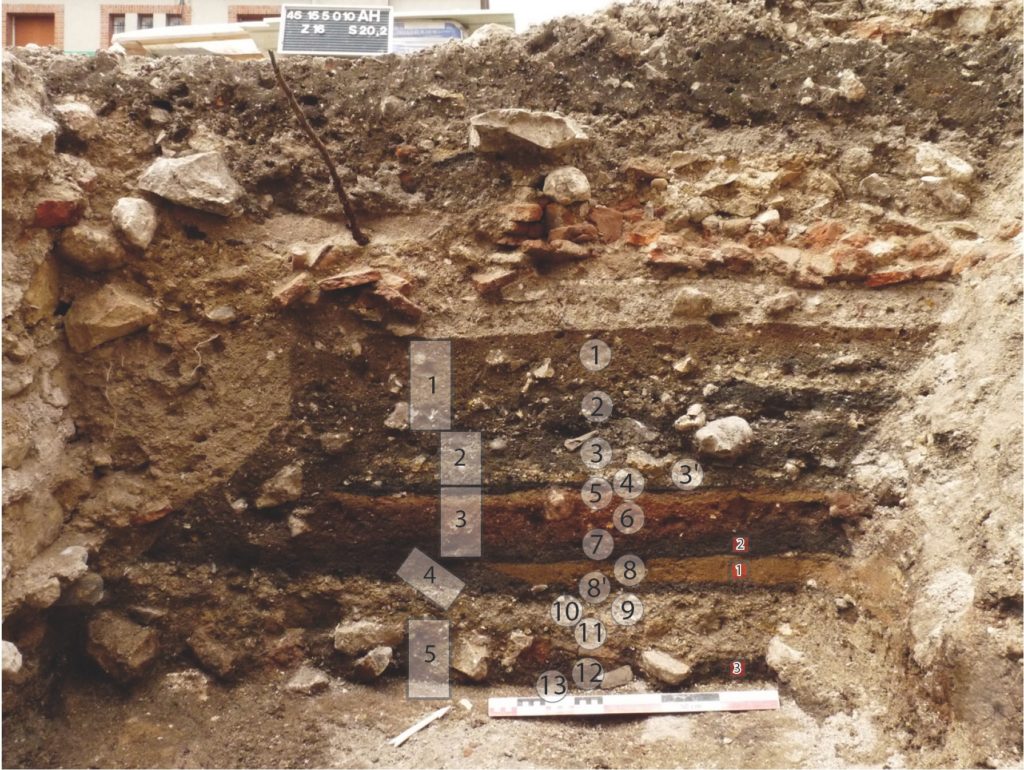 This project has been made possible due to its project partners and collaborations with several other research projects. The castle case studies represent a diverse range of cultural, environmental and heritage contexts across Europe, in which we could examine the preservation of stratigraphy, biological remains, artefacts and materials:
Elbląg, Poland, Karksi, Estonia, Cēsis, Latvia, important Teutonic Order castles in the Baltic region;
Castle Keverberg (Kessel), the Netherlands, which consisted of an original stone tower built in 1100 and covered by a motte-and-bailey castle;
Several French castles, which are Château de Caen, built in 1060, Château de Gien, which today hosts the National Museum of Hunting with the remains of an early (c. 9th – 11th AD) Carolingian castra below, Château de Loches and Château de Boves;
Two Italian case studies, Castelseprio, a UNESCO World Heritage site, and Montegrotto;
Molina de Aragón, Spain, situated in the Molina and Alto Tajo UNESCO Global Geopark;
Dunyvaig Castle, Islay, Scotland, formerly the naval fortress of the Lords of the Isles, the chiefs of the Clan MacDonald.
This project developed a framework for geoarchaeological research at European castles to target archaeologists, castle curators and heritage management policy-makers, so that our guidance can influence their future excavation strategies and conservation plans. Geoarchaeology applies environmental science techniques to archaeological research questions.  Soil micromorphology is a geoarchaeological technique that enables us to conduct a micro-excavation by analysing a slide, or 'thin section', produced from an intact, small block collected from the archaeological stratigraphy, so the inclusions are still in situ. The slide is analysed using a geological polarising microscope. Under the microscope, we record the same soil properties as archaeologists do in the field and additional ones, to understand the processes by which materials were deposited, how they have decayed due to chemical weathering, and how later human and faunal disturbances have affected the stratigraphy.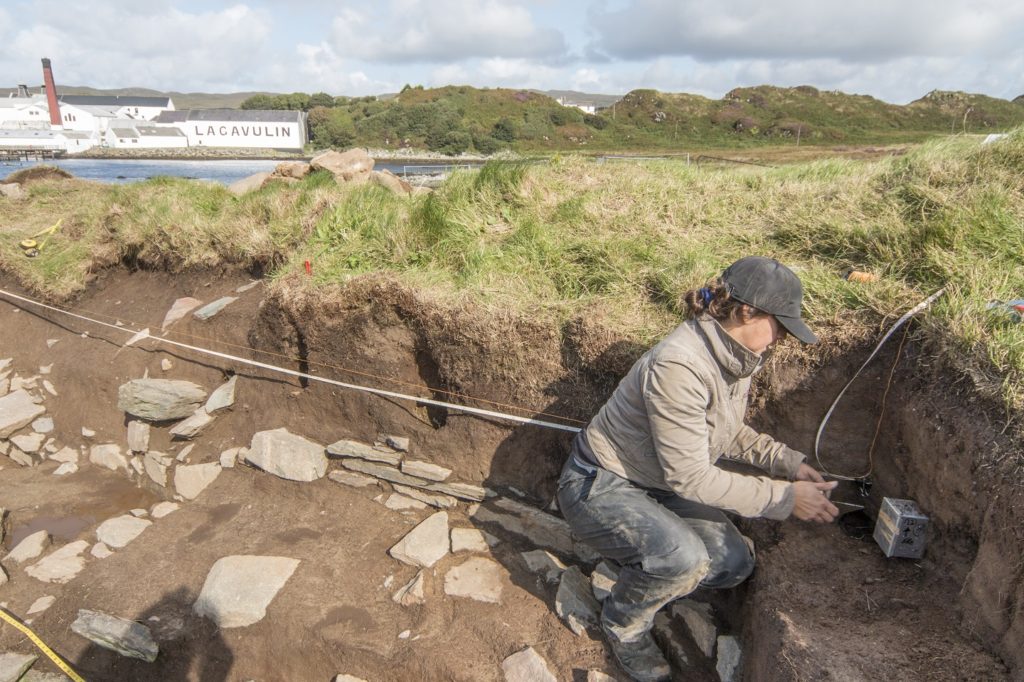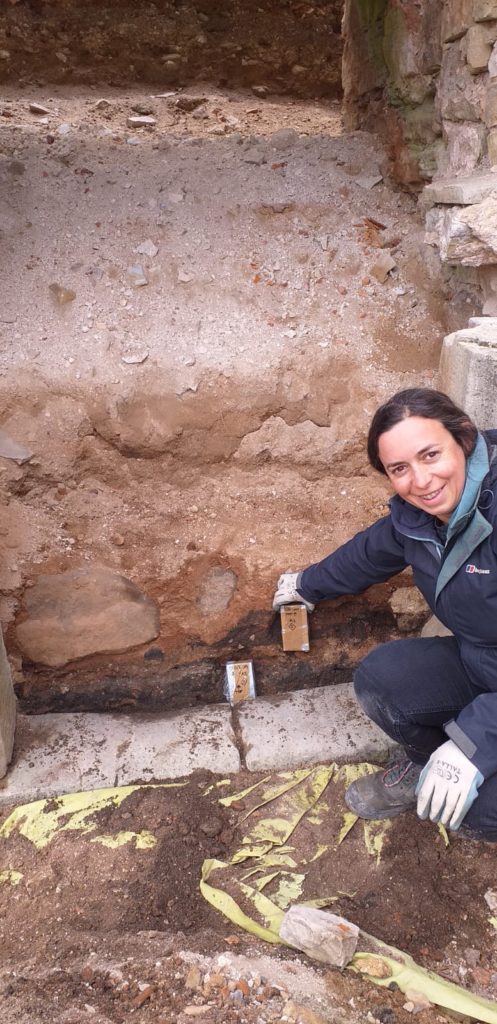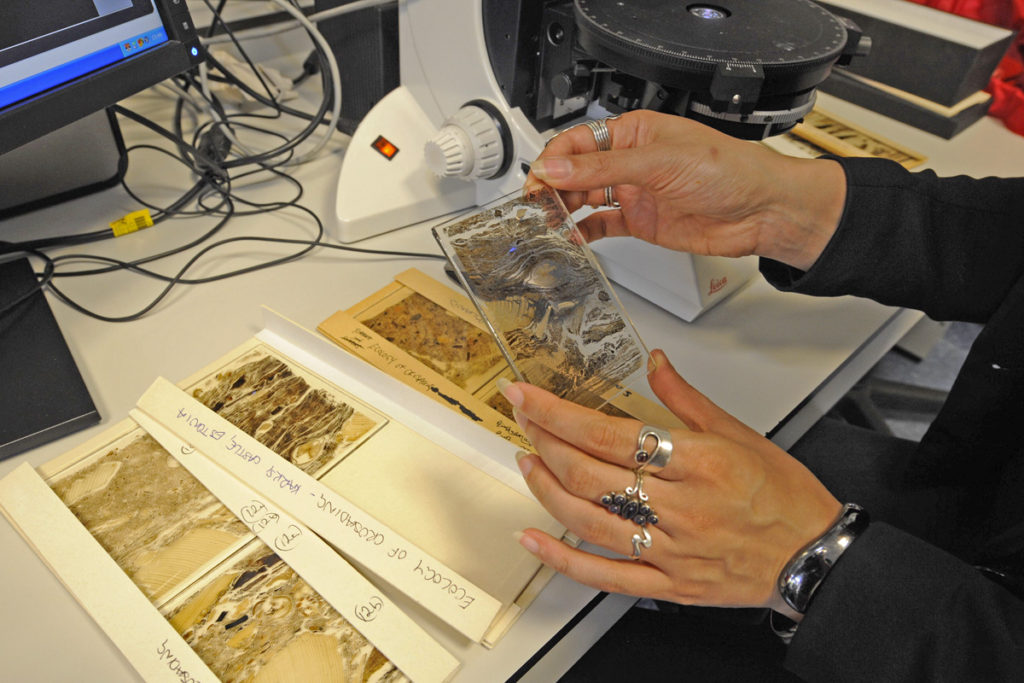 Soils and sediments are the backbone of the archaeological record. Our data revealed important stories within the soils about the early development of castle sites, the activities that took place inside different areas of the castle and how they may relate to the activities in a castle's hinterland. We noticed that the preservation of the stratigraphy was exceptional owing to its burial under later masonry structures, masonry collapse and successive occupation layers; a phenomenon which is also observed on urban sites and Near Eastern tell sites.
Our results highlight the great potential and requirement for scientific analysis of these deposits when they are uncovered by excavation and/or building activities. These building activities include the conservation and renovation of the standing architecture and the removal of rubble, which can unseal buried archaeology affecting its preservation. Our analyses have revealed microscopic evidence for in situ animal husbandry and horse stabling, as well as the types of fodder that livestock were fed, crop processing activities, and periods of soil formation where areas of a castle have been abandoned or changed use. For example, at Castillo de Molina de Aragón, Spain, microstratigraphic data show the changing nature of the occupation the citadel, from the Islamic to Christian period which could possibly indicate a change in its role from a clean, well-maintained space to one where livestock roamed. The Islamic plaster floor surface was kept clean and very little domestic refuse accumulated  ̶  a soil formed over it, followed by a substantial destruction horizon. In comparison, units of discarded material and trampled floor surfaces characterise the (Re)Conquest phase, c. 1154, and a series of plaster floor surfaces with associated occupation residues containing herbivore dung showing that livestock were present, which probably relate to modifications during the thirteenth and fourteenth centuries.